Cedar Security Bank
Fordyce, Nebraska
Bradley R. Perry
Automated Systems, Inc.
1201 Libra Drive
Lincoln, NE 68512

Dear Bradley:

We are a community bank with assets of $20 million. CSB had always used a service bureau for our data processing needs, but the Y2K upgrades mandated by that service bureau gave us the opportunity to consider capital investment in a different processing option. With a consultant's recommendations, we looked to Automated Systems, Inc. We were somewhat hesitant to believe that the system Automated proposed could "do the job", especially when comparing price between Automated and the next competitor. I am happy to say that Automated did what it promised, and continues to do so.
We are most impressed with the support staff at Automated. Phones are answered by real people, who are knowledgeable and friendly. At our service bureau, we talked to a machine and left a message. We considered ourselves fortunate if we received a return call the next day. Not so at Automated. Most issues are handled with one phone call.
A pleasant surprise that came with our conversion to Automated Systems was the result of the annual users meeting. Automated actually listens to the enhancement requests, and the Insite Banking software continues to improve. We also enjoy the flexibility that the Insite software allows us on the Automated system. Tailor made reports that used to cost us $50 apiece at our service bureau are becoming commonplace.
Thank you for providing the service you promised. I look forward to a long and successful relationship with Automated Systems, Inc.
Sincerely,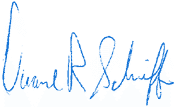 Duane R. Schieffer
EVP/Cashier
This is also available in an Adobe PDF format.