Automated Systems, Inc. offers a DEP Module designed to conveniently process transactions presented for payment online with the Insite Banking System software. As an industry leader we continue to offer user-friendly options in order to make your job easier and more efficient. We take our responsibility to upgrade and improve the Insite Banking System seriously and make a commitment to utilize our customers' requests for the future development of the software.

The DEP module provides the end-user with the ability to manage the stop pays and NSF items presented for payment with little effort. This module creates an item specific notice based on the one-digit transaction code you enter in a fast-entry edit screen or an account details screen (based on user preference). These notices list items being paid and associated charges and/or items being returned with associated charges. Service charges will be posted when decisions are made in the DEP module input screens. Service charges can be assessed manually or automatically based on your preference.
The DEP module also creates a charge-back cash letter report to each G/L clearing account (i.e. Federal Reserve, etc.) and creates charge-back notices to send to on-us customers notifying them of the Debit to their account for the returned check.
This module will create the following reports for NSF (and OD Accounts if specified):
NSF Disregarded Items Report
NSF Items Being Returned Report
NSF Non-posted Items Being Paid Report
NSF Totals Report
Charge Back Items Journal
Cash Letter Report for Returns routed to Clearing Center
Charge-Back Notices for On-us Customers
The following reports will be created for the Suspect Stop Pays presented:
Stop Pay Items to Be Paid or Returned Report
Suspect Stop Pay Totals Report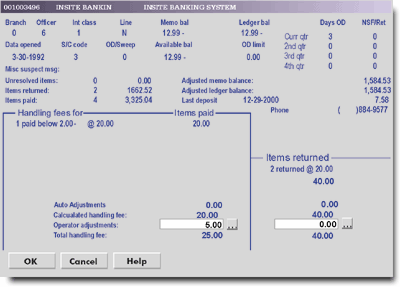 The DEP module features an option to separate transaction items by branch if so desired. There are also options for including stop payment items in the DEP module or to process them in a separate utility. Other user-preferences include: Displaying all items presented for payment on the NSF account; Displaying only NSF items exceeding OD Limit placed on account; or Displaying all NSF items, including both within and in excess of OD limit.
Processing these NSF and/or Stop Payment transactions is efficient with single-entry transaction codes to determine the action taken on the transaction item. Each item is listed with a transaction description if applicable (ACH, Descriptive, Suspect Stop Pay, Returned Stop Pay). You can process these transactions in the Fast Entry screen, which is a snapshot of the transactions or in the detailed Action Code Entry option that displays account information such as OD Limits, OD history, Memo Balance, Available Balance, and other pertinent customer information. You also have the ability to override the service charge default to augment calculated service charges.